Month One – Part 1
After a month of eating, sleeping, living on board and practically breathing "Yellowfin" we both have some time to settle and figure things out. Only seems appropriate to write a little blog about it. Enjoy:
It started with a trip to Chichester where Tom Webb would officially hand over Yellowfin's keys. I was like a teenager with his first car. The next week or so a friend from university and I worked on Yellowfin, getting her ready for the water. Any sailor knows boats don't like winter, and Yellowfin is the same. A good clean inside revealed a few small problems from the past months, which for the most part were electrical. A quick trip to the chandlery and some Googling about how to wire in parallel… or series… to be honest I'm still not entirely sure which. New antifoul went on the newly sanded hull and she was looking better then ever! I then sailed her around to Hamble where I picked up some last minute supplies. At this point I was planning on being in France for my first race in a couple of days. On the advice of friends it soon became apparent that making it down to France with a race ready boat in 2 days was very ambitious. It's a hard decision to call of racing especially when it was my first, but I believe in having a boat that will get me to the finish line regardless of the result and at that point, I was still uncertain whether I would make it down there safely regardless of race result.
After calling off my first race I had room to breathe a bit. The next race was a week after when I had originally planned on being in France, so I had some time to get the boat ship shape. A young lad, Charlie Burton, who had been our nipper during the Plymouth Sailing Team campaign, joined me for the delivery from Hamble to Plymouth. What I thought was going to be a routine delivery turned out to be a drifter with little to no wind at time and to make things worse, our engine had decided to call it quits. We sat next to Start Point (just beside Salcombe) for about 12 hours before the breeze kicked in. Nonetheless we made it to Plymouth where a whole new jobs list took shape. The big Canadian flag went on the back and after a few solid days of sorting electrics I was on my first solo passage with Yellowfin down to La Trinite, where the first race would start.
I set out past the Plymouth Sound breakwater straight into 25 knots upwind sailing. Due to the size and width of the Mini, upwind sailing is very uncomfortable. The boat usually smacks into each wave rather then riding through it. With her flat bottom as well, if there is any wave action, she usually falls of waves and crashes into the next one, a bit like doing a belly flop into a pool, rattling the whole boat, mast and myself.
I made it La Trinite after about three days at sea. It was an unbelievable feeling to have completed my first solo passage! Things on board were working for the most part and I felt I could go longer if needed.
The first race was the "Armen Race", a 300 mile jaunt up and down the French coast. The race was open to all sorts of boats so we shared a start line with about 300 other vessels all trying to make it past our little Yellow rocket. The Armen was my first race as skipper of Yellowfin and my hesitancy showed on the start line. As long as we made it back to the finish line with no scratches or broken items on board I was a happy sailor. Nonetheless the nerves settled down and I got into race mode. My co-skipper Mark Roth kept me on my toes, as naturally we are both really competitive. Immediately I noticed we had good speed compared to the other mini's and even passed a few on the first upwind leg of the course. The rest of the race was tricky as the wind died during certain portions of the course making it really hard to catch up to the leaders. After about 2 and half days we finished a respectable 14th! Before the race I had no expectations on a result. I knew most of these guys had full sponsors and sailed full time with a salary to back up their results. For an amateur like me, I was happy making the top half of the fleet. Turns out Yellowfin and I are faster then we thought!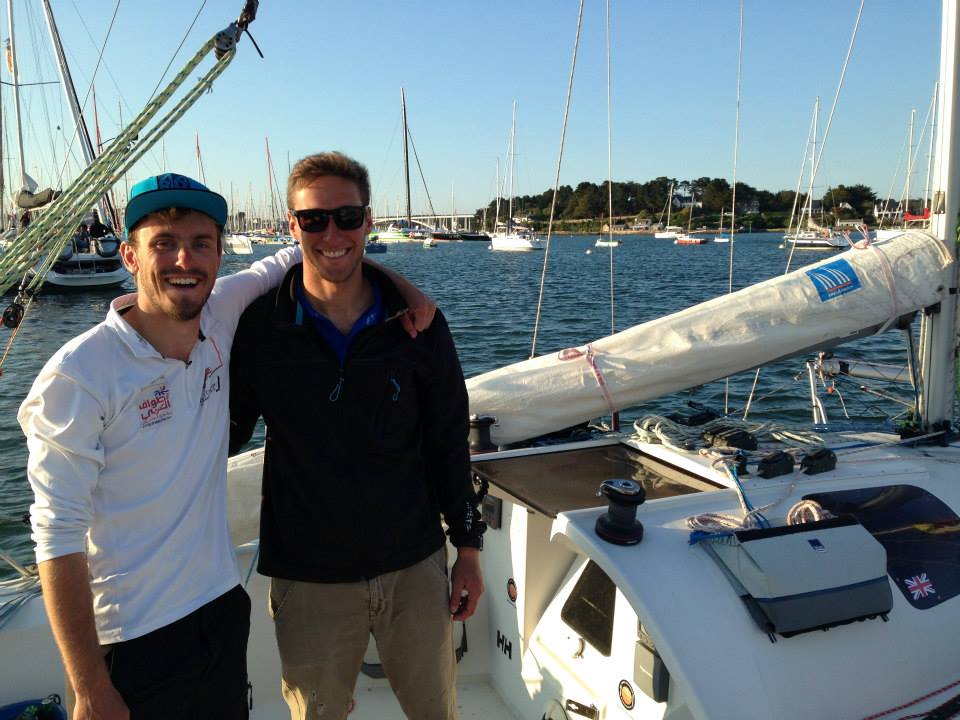 After the high of finishing my first race, the next task was to complete a 1000 mile solo qualification course. The qualification passage is designed to test sailors wanting to do either of the two large mini races; the Les Sables – Azores – Les Sables (2600 miles solo), or the Mini Transat (3500 miles solo). During the qualification passage, we have to take sextant sights to navigate, and fill out a log book every two or three hours to mark down our position, course, speed, weather conditions and any other relevant information. Once the course is completed I would have to hand in all my material to Classe Mini (the organizing authority) to see if it was accepted or not.
After the Armen, I knew what had to be done to get the boat ready for the qualifier, or "qualif" as us anglophones started calling it. I needed to sort out a unreliable GPS connection, find out why my VHF radio wasn't working, and get my generator working so I could charge my batteries along the way.
Once sorted, I left the dock around 12pm on the 3rd of June. It was hard to leave land knowing what lied ahead. The forecast looked nasty for the coming days and I knew there was nothing I could do about it. My stress came from the fact that I HAD to be in Douarnenez for the 12th of June to start another race I needed to complete in order to qualify for the Azores race. So I knew my time was limited, and I couldn't delay because of weather.
The first day and night were beautiful; I had a spinnaker run all the way down to the Ile de Rhe, the first turning point and the most southern point of the course. Once I sailed under a bridge connecting the Ile de Rhe and the mainland, the wind picked up, and picked up fast. What was 20 knots during the night, turned into a consistent 35 knots. I took down as much sail as I could without taking them all down and plodded along in the 4 metre waves. I knew Yellowfin didn't like this type of weather because she would crash down on each wave, shaking the mast, and tossing everything inside the boat around like a washing machine. I had my dry suit on which only gets worn in sever weather conditions. My life jacket was also on and I was tethered to the boat via lifelines that ran from the bow of the boat to the stern.
What happened next was the most terrifying experience I had had on the water. I was leaning over trying to connect my autopilot to the tiller (the driving stick) so that I could go downstairs and repack some things that had gotten thrown around. Just as I connected it, a huge wave broke just before reaching Yellowfin, and a wall of white water crashed against the side of the boat. I was sprayed in the chest and face and it knocked me off my seat into what I thought would be the sea. As I fell I remember panicking and looking for things to grab onto but nothing was in reach and I was falling to fast to grab anything. Just before I hit the water my lifeline snagged and I found myself dangling in my cockpit in the most awkward position imaginable. I sat there for a few seconds to process what had just happened because this was the first time at sea I had been saved by my lifeline. It felt good to know all the boring safety talks I had heard in my sailing career had actually sunk in enough to make me remember to clip in. It also made me aware that this type of weather is dangerous for both the boat and myself.
The "qualif" has a special rule that allows skippers to pause their passage if the weather is forecasted to be above a force 8 or a "Gale". This weather was definitely above a gale so I limped into the nearest port, called St. Denis D'Oleron.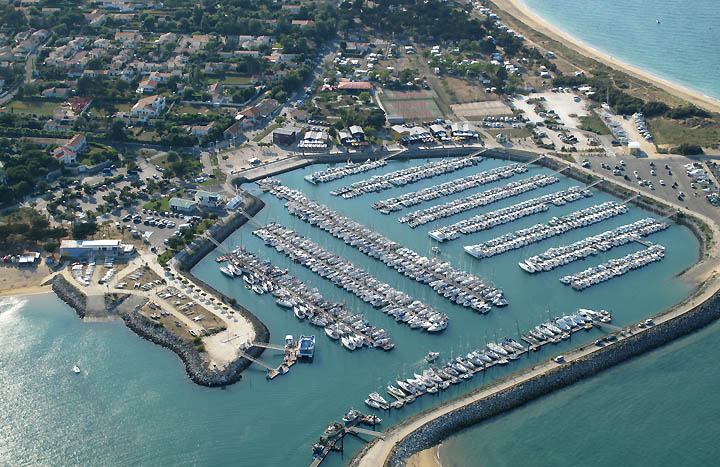 Once tied up, there were tons of people around the boat asking if I was all right and if I needed assistance in anyway. That's one of the great things about the French, they love the sea, and they respect anyone that tries to battle it. I think the Canadian flag on the back of the boat helped as well but nonetheless I had an army of French people on my side and willing to lend a hand.
I stayed in port for about 12 hours, long enough for the storm to pass and for me to recharge both the boats batteries and my own. This qualif was turning into a crazy adventure.
To be continued…