Leg 2 Part 2
Leg 2 part 2
Part 1 here
After the rudder issue, Yellowfin still felt like a competitive boat. I knew I lost a few miles because I didn't push hard with a spinnaker during the really windy parts of the race. Nevertheless, this was a long race and I could definitely make those miles up by pushing hard now.
By this time, I was about 700 miles from finishing, placing me about 150 North West of Cape Finistere. It was a rather "Northern" route to take compared to the other boats, but prior to our departure, the weather files suggested that there was more wind up north. In my mind, people who were frightened by the thought of a hurricane would sail south. I wanted to go North and find the wind. This is where I had planned to make up my miles.
I was on port tack for what felt like ages; since we left Horta, in fact. The main was all the way out with either a spinnaker up during the less windy portions of the race, or just a jib during the windier portions. I made it to my virtual waypoint that I had set as the northern most point of my route that I wanted to sail. I was going to gybe west and try to join the rest of the fleet hopefully a few places ahead of where I was.
I tidied the boat as I do before a gybe and went on the bow of the boat to make sure everything was good. I glanced up at the mast and noticed a huge problem. The spreader, a metal rod sticking out from the mast that helps support it, had come out of its mount and had the potential to break. I knew that if I gybed, the spreader would break and there was a huge risk of the mast coming down. 200 miles from shore, this is a bad thing to happen.
I started thinking of ways to fix it but the only option I came up with was to climb the mast and see if I could push it back into place and put new bolts in. I had never climbed the mast alone. Usually I wear a harness and who ever is with me pulls me up the mast with a line attached to me. This was different. I had no one to help, no one to let me down gently. This was solo sailing.
I thought of ways to get up there and free climbing looked like a bad option. In the 2m waves, if I was jerked off the mast I could fall into the water, meaning the boat had a chance of sailing on without me, or worse, I fall onto the deck, potentially breaking a limb or a back.
I came up with a solution. I attached a pulley to the climbing harness I had, and a pulley to a halyard. (A rope that pulls sails to the top of the mast). I rigged a 3:1 purchase with this meaning my regular strength was multiplied by three. I'm about 80 kilos (190 pounds) and this meant that I could actually pull my heavy arse up there. Once attached I started climbing.
The hard part was staying with the mast. I had taken some sails down so I went slow, and had thrown a long rope attached to a floating buoy out the back, so that if I did fall in the water, there was a small chance I could swim and grab it and potentially pull myself back to the boat.
The waves were still about a metre and a half at this point so the boat was rocking violently. 190 pounds of deadweight half way up the mast didn't help. I finally reached the spreader connection point and noticed that this was not an easy fix. The bolts holding it into the bracket had completely sheered. Pushing the spreader back into place was impossible because it had the load of the shroud (the wires supporting the mast) pushing in on it. I tried to push it back into place with the last bit of energy I had and it actually popped out of the socket completely and hit me in the face. Not a nice feeling.
So at this time I was 25 feet in the air, alone in the middle of the Atlantic, with 1.5 metre waves and 20 knots of wind, hanging from an unsupported mast. NOT COOL BRO!
I quickly came down and collapsed. Climbing that thing had used all the energy I had and I was sore with a nice little cut on my face. I made the decision that I would sail with reduced sail area all the way to Les Sables. This way, there was no risk of loosing the mast because another spreader further down the mast supported the mast. It was slow, but it was safe.
It seemed like by this point anything and everything that could go wrong had. Someone up there didn't want me to finish this race but I had the drive. I didn't care if I was last, I was finishing. I did my best to support the top section of the mast. I tied more halyards to the side of the boat so it was a bit more stable. I got the storm jib out and put three reefs in the main. This was how I would said the next 550 miles.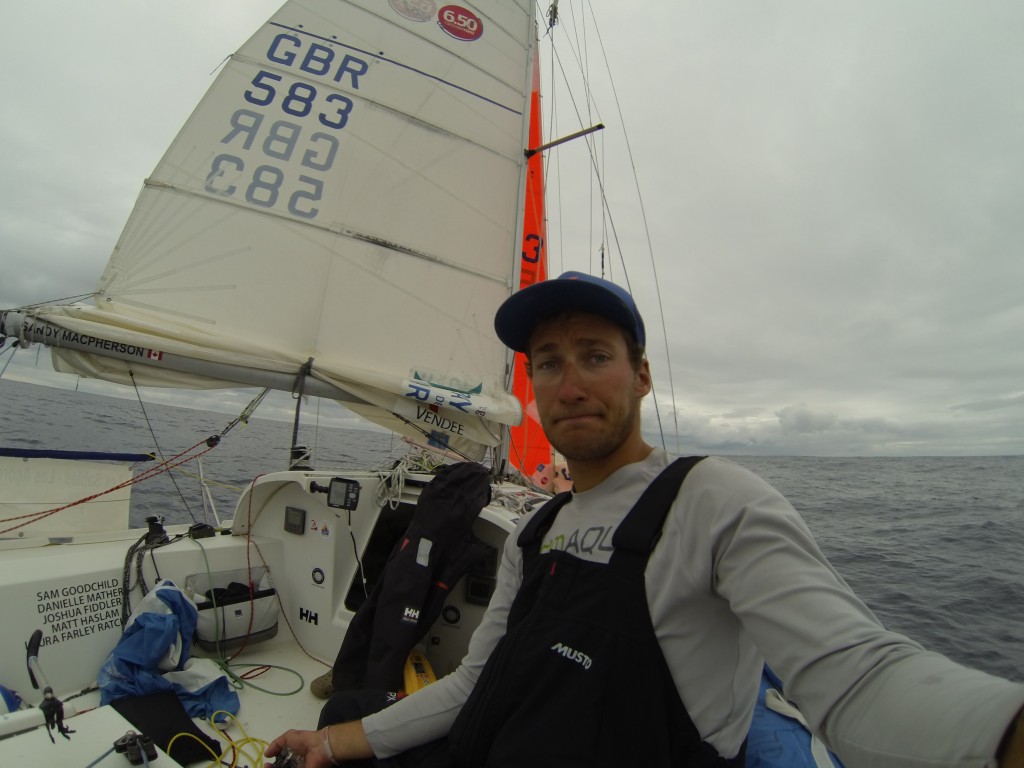 4 knots of boat speed and I was off. I slept well that night.
The rest of the race was rather boring and frustrating. The wind was perfect for the medium spinnaker and I wanted to be surfing down waves at speed towards Les Sables. Unfortunately this wasn't possible. Four days went by and I started to approach Les Sables. I knew I was last at this point, but I didn't care. I was finishing.
The whole race flashed before my eyes at this point. I remembered stopping in leg one to fix the rudders and how frustrated I was. I remembered getting to Horta and being greeted at 4 in the morning by 30 of the other sailors. I remembered touring the island by moped and deciding that this was the island I was going to retire on J It all seemed like so long ago. I was about 100 metres from the finish when the support boats came to see me. They said there was someone behind me! I freaked! What? I wasn't last? The wind was about 8 knots and I was doing 3 over the ground because of my reduced sail. I started to see the outline of the boat in the distance and he has full sails and a spinnaker up. Great…
The wind started to die even more and it was becoming painfully slow. The other boat crept closer. We rounded the last mark and the wind died completely. I stopped dead and he managed to pass just under me and finish. ARE YOU KIDDING ME? Now I really was last. What made it worse was he was celebrating his finish just in front of me and I was doing .5 of a knot of boat speed in the wrong direction because of the tide. I plodded around for another 20 minutes. The most painful 20 minutes of my life. Finally I finished. The gun went and they said over the radio, "Top". Not sure why but this is what they say in France apparently.
I had done it. 2600 mile was behind me. The sails came down and all the support boats came next to my boat. A fellow mini sailor came on board to help with taking the sails down. I was in shock. I literally didn't know how to act. I was so tired from the past 10 days at sea but the adrenaline was pumping! I got to the dock and was greeted by about 50 of the other sailors and friends. After a million high fives, they all said I was crazy for my quick fix jobs on both the rudders and the mast. It was cool to get a bit of respect for that. Last place didn't matter. Nothing mattered at that point but finishing. The beer tasted good that night and I slept for ages after.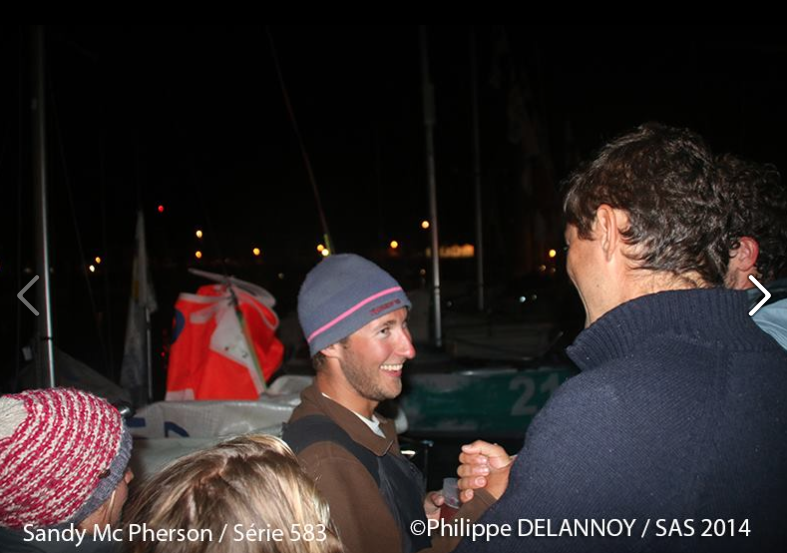 With the season complete and the boat just about ready to go back to England for the winter, I want to thank everyone who was involved in any way. My friends in England for pushing me to do the mini season, my parents for the constant influx of good advice and reality check, not to mention the financial support. To the sponsors of Yellowfin, Kim Wilkes at Lander Property management, Donna Brewster at Tri County Lift Truck and Plymouth Yacht brokers. To Thornham Marina, Expedition Foods, Hemisphere rigging, Barry's rigging and Matt Perry for the rope work skills. To the Prince Edward Yacht Club for letting me host an event there to launch this season. To Miss Lily's Café and Barley Days Brewery. Thank you. Thank you. Thank you!
Also, thank you to the Canadian Cancer Society for letting me hoist there flag in several cities in France. There have been many times when I look at the flag everyone signed to give me a little extra push.
Now that the season is done, one would think there would be some rest time. No. That's not how I work. I am coming back to Canada on the 28th for a few weeks and will be searching for sponsors for next season. The Mini Transat is my next goal. Crossing the Atlantic in one of these things. I have a 2-year plan put together and I would love to share it with anyone who is interested.
I am also scheduling talks with various club and societies within the Prince Edward and Hastings region so if you would like to hear more about the past season I have had please stay tuned to find out dates.
For me now, I need to get Yellowfin back to England and make my flight. The rudders and mast are fixed and I will be leaving this evening.
Until next time, Caio Caio
Sandy