Canadian Ocean Racing
After a few months of trying to settle into the frigid Canadian winter, I came across the opportunity of a lifetime.
Canadian Ocean Racing was founded by Eric Holden and Morgen Watson to promote the sport of offshore sailing and develop Canada's premier offshore racing program.
The duo established the program following their Clipper Round the World Race win, in which Holden was the first Canadian Skipper to enter and ultimately win the race. Wanting to build off the momentum of the win, Holden created the program to really inspire fellow Canadian sailors to dream big about offshore racing.
They have got a hold of the ex-Spirit of Canada, now dubbed, O Canada, an Open 60, with the hopes of competing in the world's most extreme ocean racing events.
Once hearing about the project I met with Eric and expressed my interest in the campaign. With my offshore sailing experience I knew I would be an asset to the team he was trying to put together. Turns out, just as I was meeting him, they were about to launch a program called "Aspiring Offshore Athletes". This was an initiative to bring Canadian sailors who had offshore experience into Canadian Ocean Racing to both contribute to the refit and delivery of the boat to Europe from Vancouver, while learning from Canada's best sailor, Eric. I was accepted.
As I write this I'm exhausted from the boat work we completed today. As you can imagine, there is an insane amount of work that needs to go into this boat. At 60 feet long, she is a pure racing machine. Added with the fact that she has been sitting on shore for 2 years means there is some real work to be done in order to bring her back up to racing spec.
 The timeline for the next few months is as follows:
March – Refit
April 15 – Launch Boat
April 15 to June 30: Sail to Toronto
July – Attend Pan Am Games as spectator boat
August – Head to France to prepare for European Racing Circuit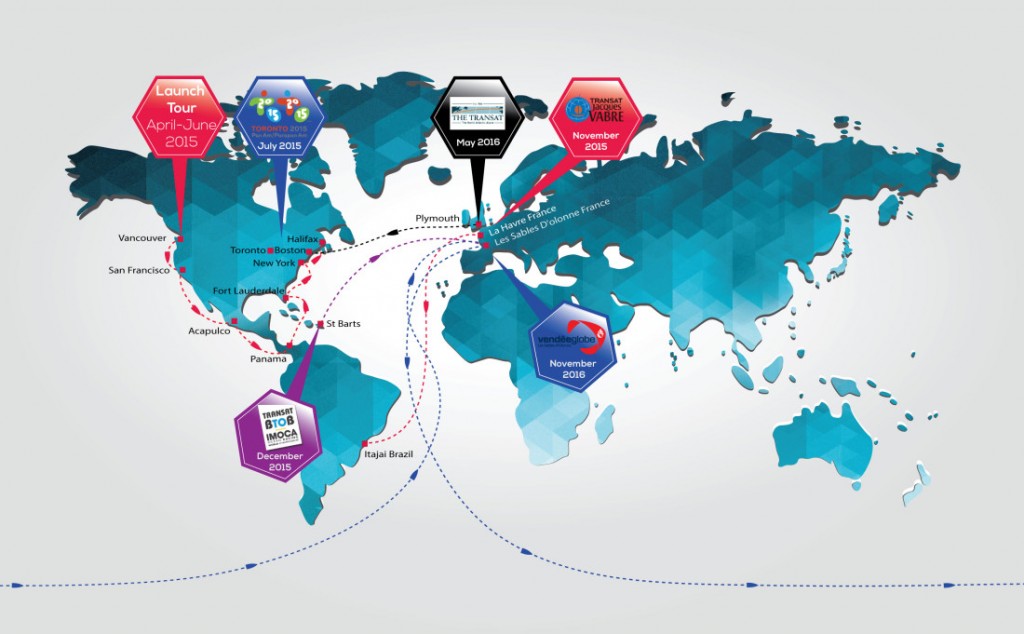 The timeline is a bit up in the air, as the program is just getting off its feet. Canadian Ocean Racing is still looking for sponsors to help fund the adventure, though as Canada's top offshore sailing team, that shouldn't be hard.
In the mean time, I'm extremely thankful to be out here, even if I am sanding, scrubbing, and cleaning…
This is an amazing boat, with an amazing team behind it. I can't thank the people who have helped me through my projects enough because without you, I wouldn't be here.
Thanks for following. More updates from Vancouver coming soon…